I am amused when I hear the resignation of Kim Darroch mooted as an attack on an apolitical civil service. Darroch's rise to the top of the FCO was in fact a startling example of the politicisation of the civil service – there is no doubt that his enthusiastic support for the Iraq War, and for every neo-con war of aggression since, is what endeared him so strongly to the people who make the decisions on the top posts (and do not believe the fiction that ministers have no influence on them).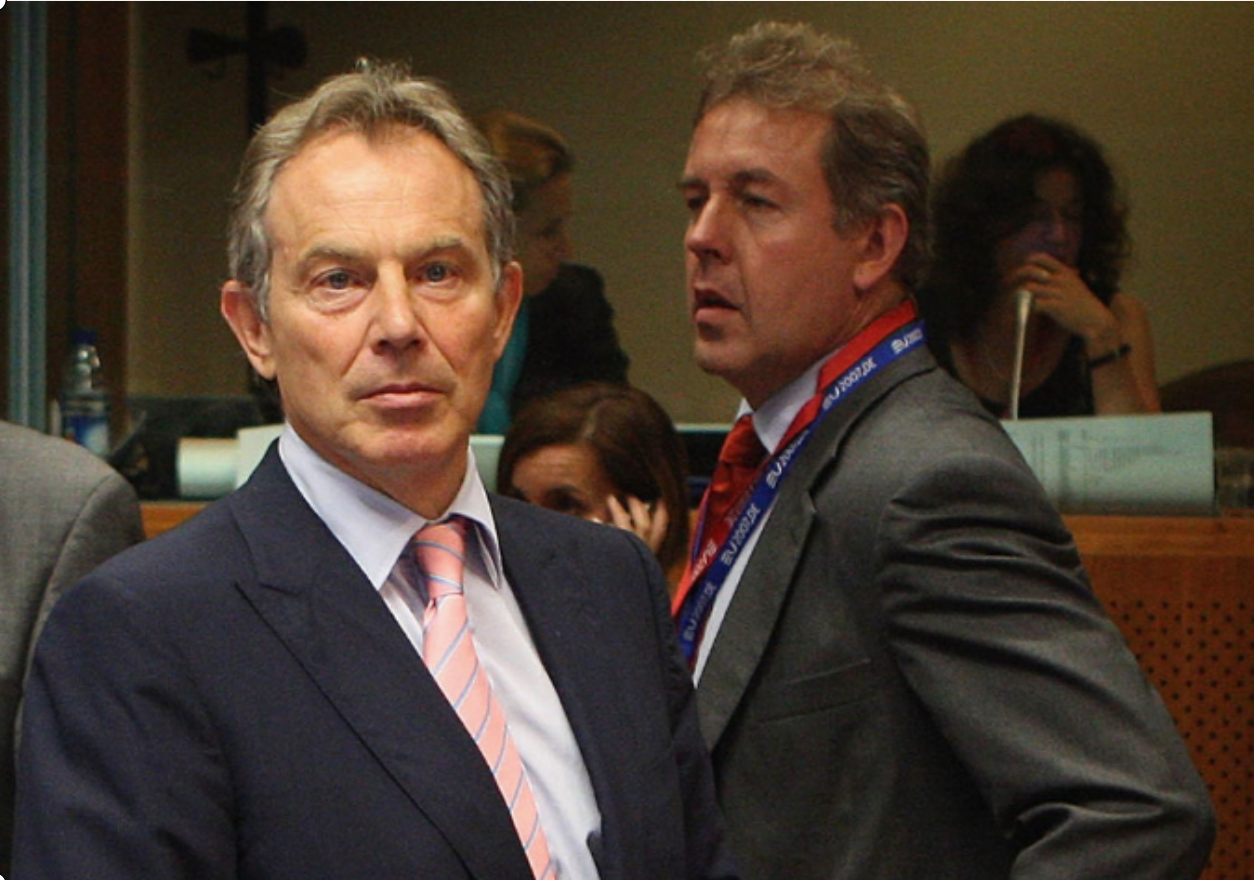 Kim Darroch and Tony Blair
I have annoyed quite a few people – including regular readers – for refusing to endorse any of the more baroque conspiracy theories involving Trump and Johnson conspiring to get rid of Darroch. These have the attraction of simplicity, with the evil Johnson and Trump on one side and the angelic Darroch on the other.
But many things do not easily make sense. The notion it is a plot to make Farage Ambassador to Washington is bizarre. If Johnson wishes to appoint Farage as Ambassador to Washington, after the summer break he could do it on Darroch's retirement – which could have been if desired quietly brought forward two months with no fuss.
More to the point, the Brexit Party like UKIP is nothing without Farage. The idea that, at this crucial point, he would volunarily lose his political leverage by going off to be a diplomat in Washington is a nonsense. And – crucially for Farage – there is just as much cash in being an MEP.
We do not know who leaked the telegrams and why. One overlooked possibility is the intention was to damage Trump himself, by releasing Darroch's criticisms of him. As I pointed out, Darroch is an abrasive character with many disaffected people who have worked for him around, and I still think that is a likely source for the leak.
We just don't know. But what I do know is that the idea that Darroch is an apolitical civil servant is a nonsense. I would remind you also that my objections to torture and extraordinary rendition were entirely in internal highly classified communications at the time the FCO first decided to try to move to sack me. I only leaked afterwards. So the idea that the FCO encourages honest and candid reporting is still more of the hypocritical nonsense being talked around Darroch's resignation.